Financial Planning and Wealth Management form the two pillars of Personal Finance. The Former being the navigation map and the Latter being the journey & the destination.
At Solomon Investments, we pay detailed attention to what our clients needs and goals are. We develop action plans to grow their wealth by making sound financial decisions.
Thus we ensure that our client's Map is in place and they have a smooth journey without any headwinds.
Financial Planning is the most Important but widely Ignored Activity every Household requires.
A Financial Plan is the link between your Financial Resources and your Life goals.
Financial Decisions such as buying a car, purchasing a flat, building a corpus for our kids education, investing for retirement requires careful assessment of our current income/expenses and saving plus investing for them without depleting our current standard of living.
A Financial Plan will help you analyse what you can achieve and build the necessary foundation required for achieving your life goals.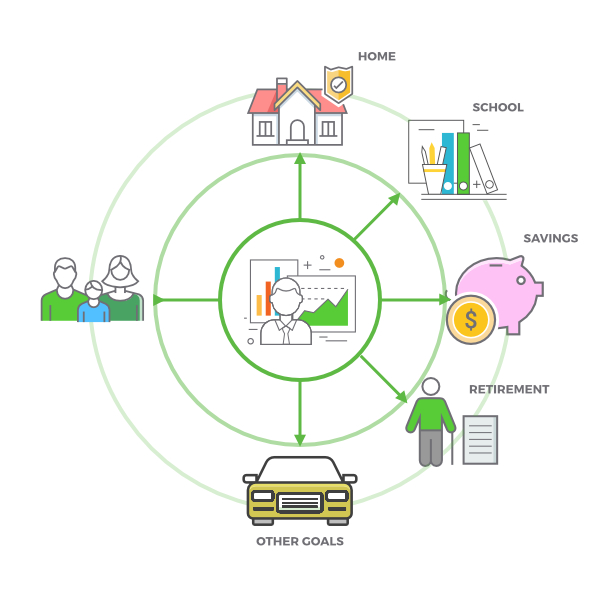 How we can help
To develop a Cashflow Management Strategy where we can track your income & expenses. This will allow us to plan for future expenses and ways to create investments to meet your needs and goals.
To develop your Comprehensive Insurance portfolio so that you and your loved ones remain adequately protected in times of unforeseen life events.
To develop a Customized Tax Plan where we find possible ways to reduce your tax availability within the scope of the Income Tax Laws and Regulations.
To develop a Comprehensive Investment Plan by recommending short term and long term investment ideas which will be in line of your Financial Goals. Financial Goals can be Saving for you Retirement, funding your child's education, Emergency Fund planning etc.
SI Financial Planning Process
First year fee for SI Comprehensive Financial Plan is 15,000 / -*
Renewal year fee for SI Comprehensive Financial Plan is 8,000 /- *
*Fees are subject to change as per management. Clients/Prospective Clients will be intimated if there are any changes in the fee structure. Thank you for trusting us.
Don't hesitate to contact us for any kind of information
Call us now to start your journey towards financial freedom!
Registered Address
102, Twinkle Apartments,
1st Floor, Opp. State Bank of India,
Vakola,
Santacruz East,
Mumbai-400055
Other solutions we can help you with